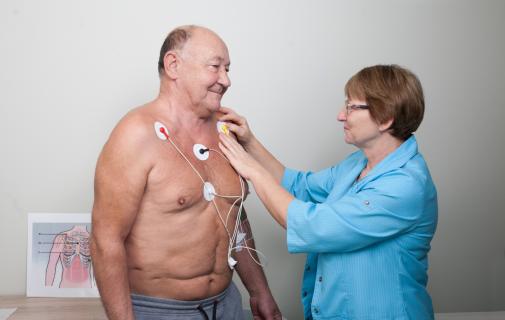 Holter monitoring
Vizuālā diagnostika Ltd. offers Holter monitoring at the Radiology Department in Kuldīga (at the premises of Kuldīga Hospital Ltd.), within the framework of which 18 - 24 hour recording of electrocardiography (ECG) is performed.

Holter monitoring is a recording of ECG that lasts for 18 to 24 hours and is performed to assess the heart rhythm disorders of the patient. The examination is performed in young patients, who could complain of periodically elevated heart rate, as well as elderly patients with the history of heart diseases (this allows detecting the cases of angina pectoris, as well as episodes of asymptomatic ischaemia). The examination can also be useful in the cases, where the patient complains on dizziness or fainting. In these cases, the recording of 18 – 24-hour electrocardiography allows to differentiate heart rhythm pathology from brain circulation disorders.     
Frequently asked questions
How does Holter monitoring occur?

To perform monitoring, electrodes are fixed to the chest of the patient, which are connected to a small ECG recording device. During monitoring, the patient records their wellbeing and observed symptoms that occur during the physical activities. The performed observations enable the physician to analyse the obtained data and determine heart rhythm disorders or other heart diseases.


Electrodes and ECG recording device can be easily fixed under clothes and can be comfortably used without interfering with the daily activities of the patient.

What should a patient know before the performance of an Holter monitoring?

No special preparations need to be performed prior to Holter monitoring, however, the patient is recommended not to use coffee, alcoholic beverages or smoke large amounts of cigarettes before the commencement of monitoring, since this can affect the heart function of the patient during the monitoring, as a result of which the examination results can be interpreted incorrectly.
Examination available at branches