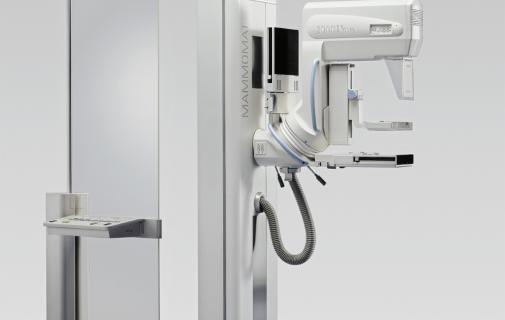 Mammography
Vizuālā diagnostika Ltd. offers mammography (MG) examinations at its branches in Saldus and Kuldīga. MG examinations are performed by using Siemens Mammomat digital mammography devices that enable the possibility of obtaining and reviewing high quality images and detecting even the tiniest pathological changes in the mammary glands. The images obtained during MG examination are digitalised to ensure faster, higher quality and more efficient diagnostics of mammary glands.

Mammography is an X-Ray examination of the mammary glands, which enables examination of breasts in different positions, thus obtaining comprehensive data on the health of patient's breast. Mammography is considered to be one of the most efficient methods for the diagnostics of breast cancer and other breast problems. The method of mammography allows diagnostics of tumours, when they are still small and cannot be perceived. At the initial stages they are relatively easy to treat, therefore it is very important to detect them promptly.
Mammography examinations are available for women from 50 to 69 years of age free of charge, within the prompt cancer detection programme, after submitting the invitation letter received from National Health Service. When arriving for the examination, the letter of invitation (which also serves as a referral for a state funded examination), as well as the screening mammography card enclosed with the letter must be taken to the examination. The patient is recommended to take all previous mammary gland examination reports with them, if the patient has such.
Frequently asked questions
What should a patient know before the performance of a mammography examination?

During the MG examination a mammography device compresses the breast to obtain a high-quality X-Ray image, therefore, the examination may cause short-term, minor discomfort in a patient.


It is recommended to perform mammography examination in the time period from day 5 to day 10 of the menstrual cycle. Performance of mammography examination is not recommended in patients with breast implants. The examination shall not be performed during pregnancy.
Examination available at branches