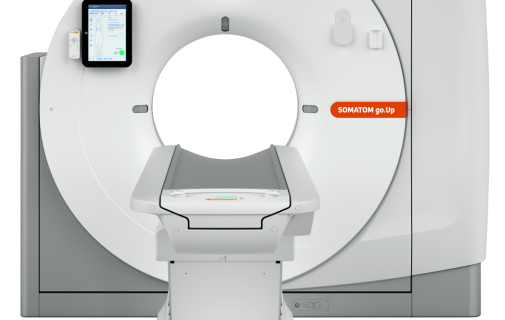 Computed tomography
Vizuālā diagnostika, Ltd. ensures computed tomography (CT) examinations by using Siemens and GE Healthcare computed tomography devices, which offer methods for the review, comparison and processing of especially high-quality images to the patients.

Computed tomography is a widely available method of diagnostic radiology examination, which, uses X-Rays like regular X-Ray examination. CT differs in terms of its capacity to obtain several images of cross-sections of body parts. Multiplanar image processing is performed (processing of images in several planes), thus obtaining maximum information on the examined part of the body. In the event of thoracic, abdominal and lesser pelvis examinations, a contrast substance needs to be injected in the vein, therefore, prior to the examination, the patient must determine the blood level of creatinine and glomerular filtration rate or the functionality of kidneys, which is especially important, since the intravenous contrast agent is excreted from the body via the kidneys.
The contrast substance may cause side effects that the patients are informed about. The contrast substance is not injected in patients with allergic reaction to Iodine or patients, who have previously had allergic reaction to such intravenous contrast substance.
CT is available for patients with metallic implants, because a specialised software is used to correct the image deviations caused by the implant.
Frequently asked questions
What is examined by using computed tomography examinations?

Head and brain;
Paranasal sinuses;
Organs of the thorax;
Organs of the abdomen and lesser pelvis;
Vertebral column.

 

CT is irreplaceable in the event of polytrauma!


 

What should a patient know before the performance of a computed tomography examination?

Prior to the CT examination, the patient must remove all metal containing clothing items or jewellery. It is advisable not to eat for 3 – 4 hours prior to examinations that involve intravenous injection of contrast substance.


Upon the performance of the CT examination, the patient is placed on a special table around which the X-Ray tube rotates during examination. The examination is not painless or unpleasant to the patient.
Examination available at branches